Breastfeeding Support Through Chiropractic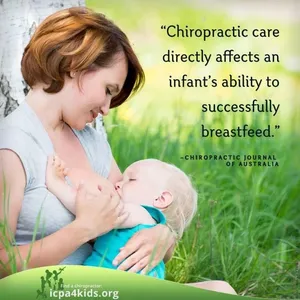 Why Try Chiropractic Care?
Babies experience physical trauma during birth which may interfere with normal breastfeeding. Chiropractic adjustments can often help these babies (and moms) nurse more comfortably and effectively, thus prolonging the physical emotional benefits of breastfeeding.
---
How Do I Know If Chiropractic Can Help?
Studies have shown that chiropractic can improve breastfeeding in women and babies experiencing:
Pain / Painful Latch
Inadequate Sucking
Fussiness / Colic
Side Preference
Jaw Clicking / TMJ Issues
Excessive Spit Up / Reflux
Inadequate Milk Supply
Neck or Shoulder Pain
Is Chiropractic Safe for Children?
Yes! Chiropractic adjustments for newborns are very gentle, typically slight pressure in a specific direction is all that's needed to make a correction.
Friendly Comments from a Breastfeeding Mother
My first child was born in June of 2016. I knew I wanted to breastfeed, but I had no idea of the challenges that lay ahead of us. Fortunately, I knew one thing that would help. After a stressful labor and delivery, my family spent several days in the hospital with complications. My son struggled with latching and also with staying awake to feed. After being so uncomfortable for so many days, I knew our first stop on the way home would be to our chiropractor. I was nervous about my own adjustment because I was still in quite a bit of pain, but I found that the simple, gentle pelvic adjustment helped me be way more comfortable. I've watched babies be adjusted, so I knew more what to expect, but even I was still a bit nervous handing my newborn over to anyone. However, he didn't even notice and slept through the whole thing. Guess what I noticed the next time I tried to feed him - it was better. He had a better open mouth and a more stable suck. Being picked up, put down, and carried all while not having great head control can all have a tremendous effect on the infant's spine. We chose to keep getting him adjusted at least twice a week to help him latch and be more comfortable. We still struggle with the normal infant woes of constipation, gas, colic, and fussiness, but these symptoms are so much easier to deal with when he is adjusted. Frankly, I am calmer and more able to handle stresses when I stay adjusted. One other note - at some points I have felt like I was having trouble with my milk supply, but I usually found that an adjustment, a cup of MilkMaid Tea and a couple lactation cookies helped very quickly.
UPDATE: We had to stop our breastfeeding journey before 5 months for reason of our own, but I struggled with finding a quality infant formula that he could tolerate and that I could stomach giving him. We found this blog very helpful. We've been on the Labenswert Bio formula for nearly 3 months and it has worked well for us. We have continued our adjustments at 2 times a week to help him...and me.